Sorin Bica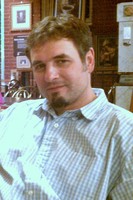 Sorin Bica,
Artist's Statement.


I paint because I have to.

I am fascinated by people and the complexity of life, by beauty and ugliness in equal measure.

I am amazed by the multitude of reactions we generate, the relationships we form, about the happiness and sorrow that we experience, about the love and hate that we are capable of.

In search of balance, I peal-off the surface and cover the core with lots of color and light…hence, my work.

Artwork For Sale
Click a work below for a larger version and details.